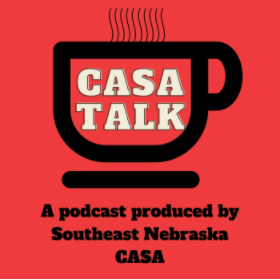 Hope Dunbar
CASA Talk is produced by Southeast Nebraska CASA as a way to engage in discussion over today's leading issues affecting child advocacy, strengthening communities and building a future stronger than our past together.
Recent Episodes
Lisa Clonch Tschauner | 10-15-2021

In this podcast, our host, Hope Dunbar is joined today by author and educator, Lisa Clonch Tschauner to talk to us about her new novel, "Reclamation." I loved this conversation because Lisa dives into her experience with growth, discovery, learning, and increased connection and awareness around human sex trafficking and the work done to help survivors on her journey to writing this book.

Lisa's website: www.lisatschauner.com

Agape International Missions: www.aimfree.org

To find out more visit: http://southeastnebraskacasa.org/

Hope Dunbar | 9/9/2021

My guest this week is Family Practice physician, Dr. Trisha Sams. She's a doctor, mother of four, and wife to a high school teacher so she's the perfect guest to join us in a conversation about healthy practices to start a new academic year as parents, students, faculty, and staff.