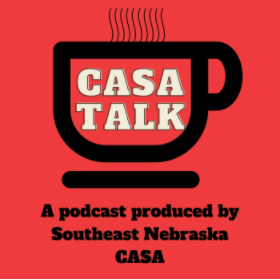 Hope Dunbar
CASA Talk is produced by Southeast Nebraska CASA as a way to engage in discussion over today's leading issues affecting child advocacy, strengthening communities and building a future stronger than our past together.
Recent Episodes
Joy Clark | 3-3-2022

This episode I am joined by New Orleans native musician and singer/songwriter, Joy Clark. Listen as we hear Joy tell us about her life, her music and becoming who she is today. She'll share about her experiences around community, creativity, being a black female guitarist and this moment in Americana that is celebrating black voices and artistry coming to forefront thanks, in part to the Black Opry House from Americana Fest 2021

Find out where Joy is playing next: www.joyclarkmusic.com
Get her newest single at www.joyclark.bandcamp.com
Find out more about the Black Opry in this Rolling Stone article by Jon Freeman:
https://www.rollingstone.com/music/music-country/black-opry-country-music-1301297/

>

Joel Endorf | 2-25-2022

My friend, Joel Endorf, and I sit down to talk about money, our lives and building the world we want to live in on purpose. I hope it helps spurs conversation around these themes in your own life.

Sonia Almodovar | 2-11-22

This mini-episode has Sonia Almodovar talking about Bridges out of Poverty training and how she is now certified to lead workshops too! Contact the office to find out more about bringing this very important training to your community soon!