Drug Endangered Children (DEC) Awareness Trainings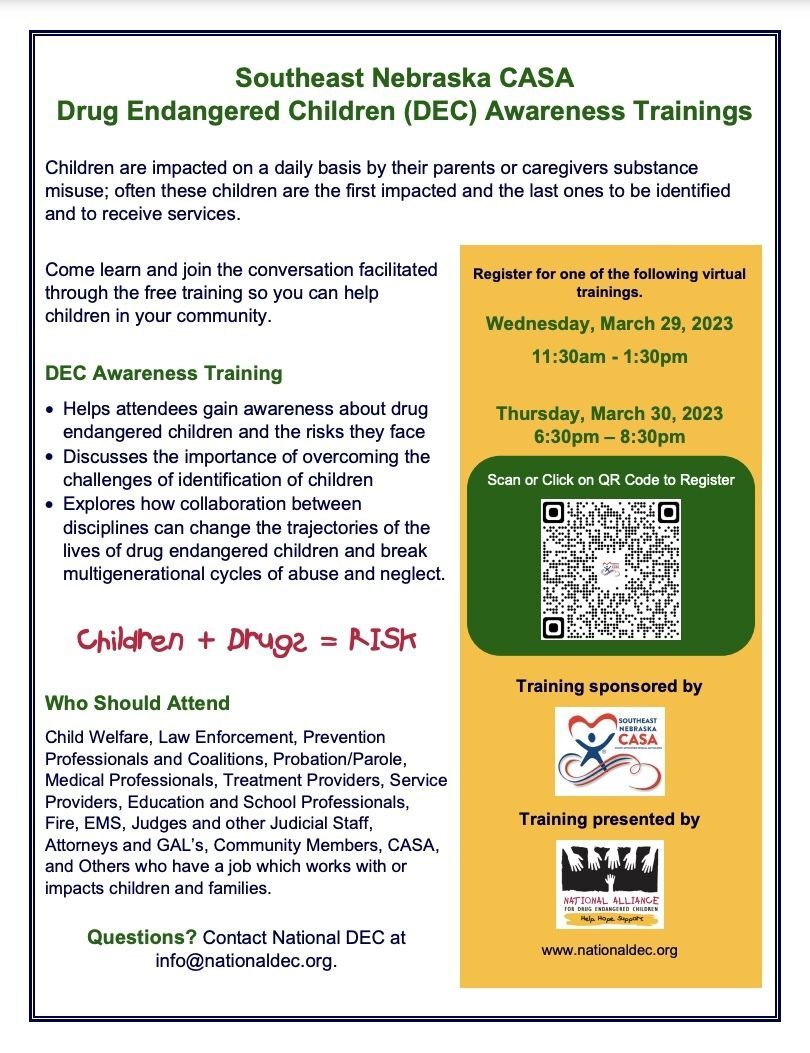 Register Here: https://events.r20.constantcontact.com/register/eventReg?oeidk=a07ejlw6hfo87b80a3f&oseq=&c=&ch=
Children are impacted on a daily basis by their parents or caregivers substance
misuse; often these children are the first impacted and the last ones to be identified
and to receive services.
Come learn and join the conversation facilitated
through the free training so you can help
children in your community.
DEC Awareness Training
• Helps attendees gain awareness about drug
endangered children and the risks they face
• Discusses the importance of overcoming the
challenges of identification of children
• Explores how collaboration between
disciplines can change the trajectories of the
lives of drug endangered children and break
multigenerational cycles of abuse and neglect.
Who Should Attend?
Child Welfare, Law Enforcement, Prevention
Professionals and Coalitions, Probation/Parole,
Medical Professionals, Treatment Providers, Service
Providers, Education and School Professionals,
Fire, EMS, Judges and other Judicial Staff,
Attorneys and GAL's, Community Members, CASA,
and Others who have a job which works with or
impacts children and families.
Questions? Contact National DEC at info@nationaldec.org